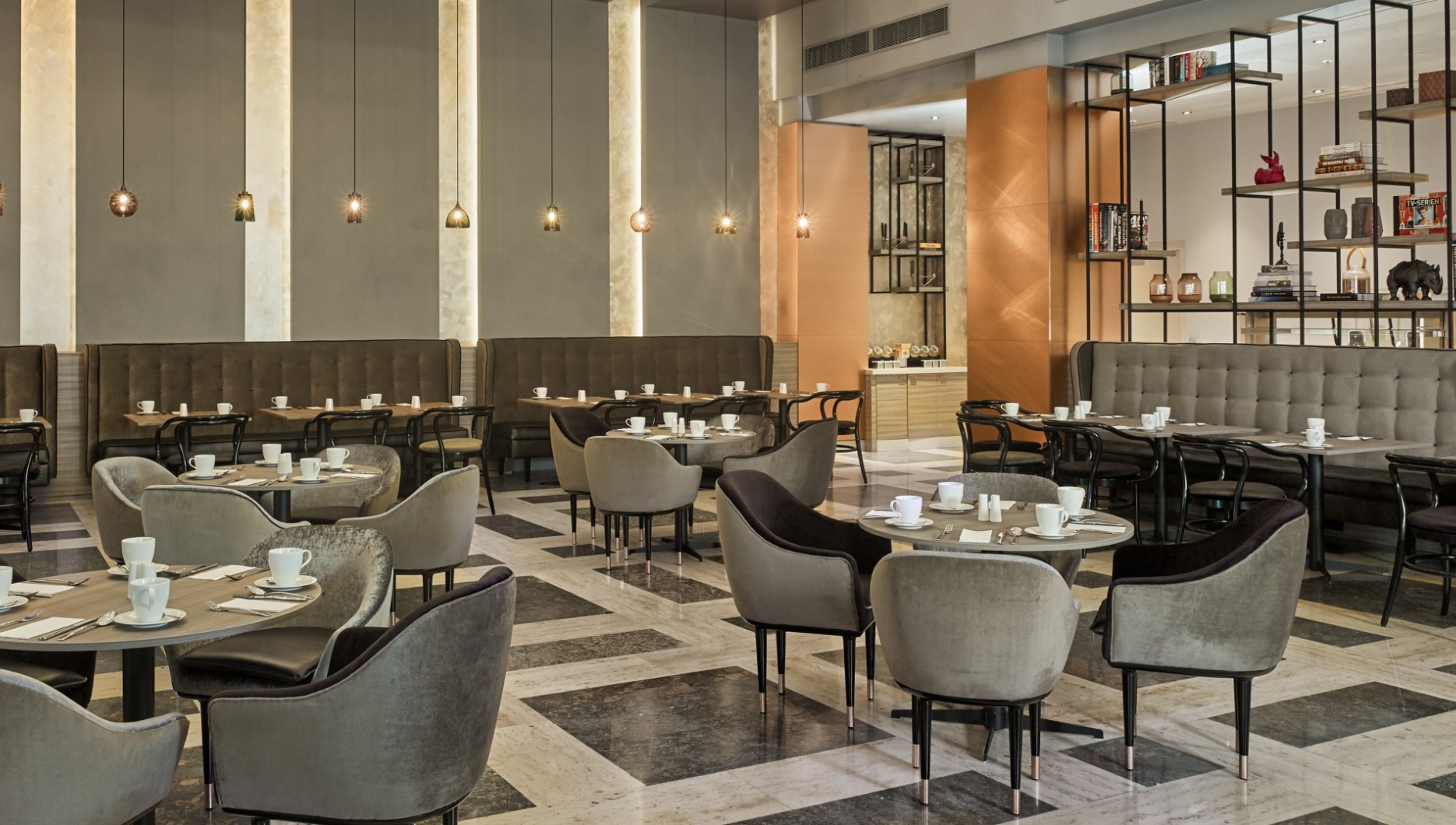 Grand Hotel Brioni Pula, A Radisson Collection Hotel
Arena Go Digital
Food and Beverage services
BRIONI FORUM RESTAURANT
This restaurant offers a variety of buffet meals freshly prepared by our Chefs for pure enjoyment. Enjoy the spacious and modern interior of the restaurant or feel the atmosphere on the terrace with a stunning view of the sunset or the starry night sky. * Working hours: breakfast: 7 am-11 am; dinner: 6:30 pm - 9:30pm.
BRIONI LOBBY BAR
Gives an absolute feeling of your own living room. Enjoy coffee, classic or new signature cocktails, a glass of champagne or finest wine, superior whiskey or gin or a light snack throughout the
day. * Working hours: 7 am - 00 am.
BRIONI GIARDINI POOL BAR
In the oasis of peace and greenery, it is a place of unique feeling overlooking the infinite blue sea. Enjoy the morning coffee, refreshing cocktails, a glass of champagne, have a light brunch, or try our top homemade desserts on the hot summer days. * Working hours: 10 am - 8 pm; serving food: 12 am - 7 pm; please contact the reception at 8700.
BRIONI LUNGO MARE RESTAURANT
Located above the beach, surrounded by the natural vegetation of the Mediterranean. Enrich your stay with an unforgettable gastronomic experience with the Chef's risotto, homemade pasta, light salads and excellent fresh fish. Refresh with craft beer and the finest wine selection. Sitting on the terrace, you will always have the feeling of holding the sea in your hands. *Working hours: 10 am - 11 pm; serving food: 12 am - 10 pm; please contact the reception at 8700.
SOPHIA RESTAURANT
A - must-try- restaurant for true hedonists, a menu composed of the finest meat cuts worldwide. The top offer of the Sophia Restaurant is also the meat of indigenous protected Istrian ox boškarin (the largest ox in the world). Considering the richness and diversity of the Adriatic sea, the restaurant offers only fresh fish based on the principle -catch of the day-bluefin tuna, lobsters and Adriatic shrimps. A carefully selected menu card is complimented with the selection of the finest Croatian and world wines. *Working hours: 7 pm - 00 pm.
ICE
Ice and necessary accessories are located in the Butlers' corner next to the elevator on your floor.
SERVICES PAYMENT
Consumption of hotel services can be charged to your room. Before using this service, please confirm your room number.
LUNCH BOX
If your plans do not allow you to use agreed services at the hotel or maybe you are going on a trip, we will be happy to offer you a lunch box which you can pick up at the reception. Please order this service at the reception a day in advance and by 10 pm.