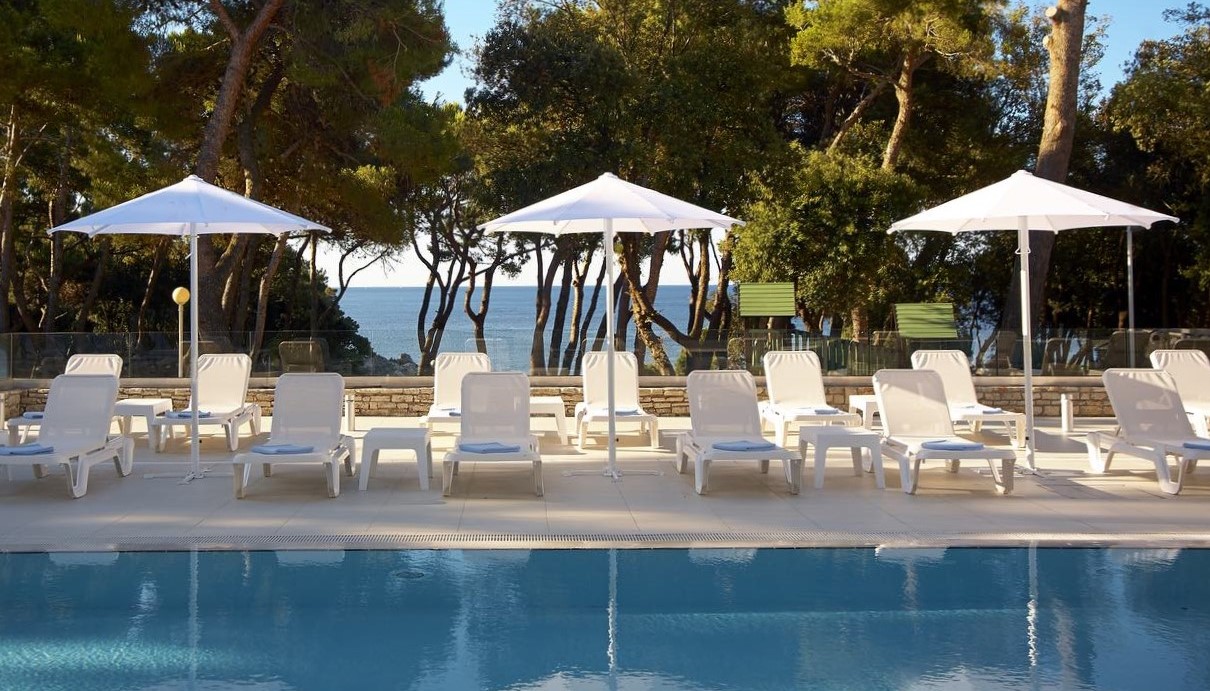 Park Plaza Arena Pula
Arena Go Digital
Room service
 PARK PLAZA ARENA PULA
Room service
Menu
from 12:00 - 22:00
Vegetarijanska salata
11,20€ / 84,39 kn
sa šparogama
Vegetarian salad with asparagus
Insalata vegetariana con asparagi
Vegetarischer Salat mit Spargel
Sadrži sulfite, proizvode od mlijeka i jaja
Contains  sulphites, milk and eggs products
Contiene solfiti, prodotti di latte e prodotti di uova
Enthält Sulfite, Milchprodukte und Eiprodukte
Pileći filetino                                 12,20€ / 91,92 kn
sa lisnatim salatama i domaćim smokvama
Chicken fillet with green salads and
homemade dried figs
Filetto di pollo con insalate a foglia
e fichi fatti in casa
Hähnchenfilet mit Blattsalaten und hausgemachten Feigen
Sadrži sulfite, mlijeko i gluten / Contains sulphites, milk and gluten / Contiene prodotti di solfiti, latte e grano / Enthält Sulfite, Milchprodukte und Weizen
Mediteranska salata                     11,20€ / 84,39 kn
sa slanim sirom i pestom od pinjola
Mediterranean salad with local feta cheese
and pine nuts pesto
Insalata mediterranea con formaggio salato
e pesto di pinoli
Mediterraner Salat mit gesalzenem Käse
und Pinienkernen-Pesto
Sadrži proizvode od  mlijeka / Contains milk products  
Contiene prodotti di  latte / Enthält Milchprodukte
Arena Club sandwich                   10,70€ / 80,62 kn
Trostruki sandwich s purećim fileom,
plemenitim sirom i slaninom poslužen uz čips od krumpira
Arena Club sandwich
Triple sandwich with turkey fillet, fine cheese
and bacon served  with potato chips
Arena Club sandwich
Panino triplo con filetto di tacchino, formaggio
pregiato e pancetta servito con chips di patate
Arena Club Sandwich
Dreifaches Sandwich mit Putenfilet,
edlem Käse und Speck dazu  Kartoffelchips
Sadrži pšenicu i proizvode od mlijeka / Contains wheat and milk  products / Contiene grano e prodotti di latte / Enthält Weizen und Milchprodukte  
Cheeseburger                                11,20€ / 84,39 kn
sa tapenadom od crnog  tartufa
Cheddar sir, prženi luk, namaz od tartufa,zelena salata, rajčica  i pekarski krumpir
Cheeseburger with black truffle tapenade
Cheddar cheese, fried onion, truffle spread, lettuce, tomato and baked potatoes
Cheeseburger con tapenade al tartufo nero
Formaggio cheddar, cipolla fritta, crema al tartufo, lattuga, pomodoro e patate al forno
Cheeseburger mit schwarzer Trüffeltapenade
Cheddar-Käse, gebratene Zwiebeln, Trüffelaufstrich,
Salat, Tomate und Ofenkartoffeln
Sadrži pšenicu, proizvode od mlijeka i jaja / Contains wheat, milk products and eggs products / Contiene grano, prodotti di latte e prodotti di uova / Enthält Weizen, Milchprodukte und Eiprodukte
Pladanj svježe rezanog                5,80€ / 43,70 kn
sezonskog voća
Fresh sliced seasonal fruit
Piatto di frutta di stagione tagliata al momento
Platte mit frisch geschnittenem Obst
Dnevni izbor slastica                     5,80€ / 43,70 kn
Daily selection of desserts
Selezione giornaliera di dessert
Tagliche Auswahl an desserts
Molimo pročitati deklaraciju o alergenima / Please read ingredient labels and allergen declarations / Vi preghiamo di leggere la presente dichiarazione di allergeni
Bitte lesen Sie die Zutaten und Allergen-Erklärung
Kruh i peciva sadrže alergene
Bread and rolls contains allergens
Pane e panini contengono allergeni
Brot und Brötchen enthält Allergene
Za alergene molimo pitati osoblje
For more informations about allergens,
please ask our staff
Per maggiori informazioni sui allergeni,
rivolgersi al nostro personale
Für alle weitere Informationen über die Allergene, wenden Sie sich bitte an unsere Mitarbeiter
Mogućnost naručivanja bez glutena
Possibility of ordering gluten-free meals
Possibilità di ordinare senza glutine
Möglichkeit, glutenfreie Produkte zu bestellen
OFFICIAL CURRENCY IN CROATIA IS EURO € (EUR)
NAPLATA SE VRŠI U EURIMA. CIJENE U KUNAMA SU INFORMATIVNOG KARAKTERA. CIJENE U EURIMA ISKAZANE SU PRIMJENOM FIKSNOG TEČAJA KONVERZIJE 7,53450 KUNA ZA 1 EURO, SUKLADNO PRAVILIMA ZA PRERAČUNAVANJE I ZAOKRUŽIVANJE IZ ZAKONA O
UVOĐENJU EURA KAO SLUŽBENE VALUTE U REPUBLICI HRVATSKOJ (NN 57/22). | PAYMENT IS MADE IN EUROS. PRICES IN CROATIAN KUNAS ARE FOR INFORMATION PURPOSES ONLY. PRICES IN EUROS ARE EXPRESSED USING A FIXED CONVERSION RATE OF HRK 7.53450
FOR 1 EURO, IN ACCORDANCE WITH THE RULES FOR CONVERSION AND ROUNDING IN ACCORDANCE WITH THE LAW ON THE INTRODUCTION OF THE EURO AS OFFICIAL CURRENCY IN THE REPUBLIC OF CROATIA (OFFICIAL GAZETTE 57/22).
OBAVIJEST O NAČINU PODNOŠENJA PISANIH PRIGOVORA POTROŠAČA
Sukladno odredbi članka 10. st. 10. Zakona o ugostiteljskoj djelatnosti (Narodne novine br. 85/15) obavještavamo potrošače da prigovor na kvalitetu naših usluga mogu podnijeti u pisanom obliku na:
- recepciju
- adresu : Arena Hospitality Group d.d., Uprava, Smareglina 3, HR-52100 Pula
- e-mail : [email protected]
- fax : +385 (0)52 215 263
Odgovor na Vaš prigovor dobit ćete u pisanom obliku najkasnije 15 dana od dana primitka prigovora. Molimo u prigovoru naznačiti ime i prezime gosta i adresu za dostavu odgovora.
NOTICE OF FILING WRITTEN CUSTOMER COMPLAINTS
Pursuant to the command of Article 10 Paragraph 10 of the Hospitality and Catering Industry Act  ("Narodne novine" Official Gazette No. 85/15), we inform our clients that complaints regarding the quality of our services shall
be submitted in writing to:
- reception
- our address : Arena Hospitality Group d.d., Uprava, Smareglina 3, HR-52100 Pula
- e-mail : [email protected]
- fax : +385 (0)52 215 263
You will receive a response to your complaint in writing within 15 days of receipt of the complaint.
Please indicate the full guest name and address for submitting the response.
BENACHRICHTIGUNG ÜBER DIE VORGEHENSWEISE BEI SCHRIFTLICHEN BESCHWERDEN VON KUNDEN
Gemäß der Bestimmung des Artikels 10 des Abschnitts 10 des kroatischen Gastgewerbegesetzes (Amtsblatt "Narodne novine" Nr. 85/15), informieren wir unsere Gäste darüber, dass Beschwerden über die Qualität unserer Dienstleistungen in schriftlicher Form und auf folgende Weise eingereicht werden können:
- an der Rezeption
- per Post, unsere Adresse: Arena Hospitality Group d.d., Uprava, Smareglina 3, HR-52100 Pula
- per E-Mail: [email protected]
- per Telefax, Nr.: +385 (0)52 215 263
Die Antwort auf Ihre Einwendung erhalten Sie in Schriftform spätestens 15 Tage nach dem Erhalt Ihrer Einwendung. Bitte geben Sie den vollständigen Namen und die Adresse für die Zustellung der Antwort.
AVVISO DI DEPOSITO RECLAMI DEI CONSUMATORI
Ai sensi dell'articolo 10 comma 10 della Legge sulla ristorazione (Gazzetta Ufficiale "Narodne novine" 85/15) informiamo i consumatori che i reclami relativi alla qualità dei nostri servizi possono essere consegnati per iscritto a:
- direttamente presso la reception
- nostro indirizzo :  Arena Hospitality Group d.d., Uprava, Smareglina 3, HR-52100 Pula
- e-mail : [email protected]
- no. telefax : +385 (0)52 215 263
Riceverete per iscritto la risposta al vostro reclamo entro e non oltre i 15 giorni dalla ricevuta del vostro reclamo. Si prega di indicare nome, cognome e indirizzo dove inoltrare la risposta.